With 15 years of experience behind us, Capt. Clean Window Washing & More is Edmonton's most trusted group of Exterior House Wash experts. For all your exterior wash needs, you can depend on Capt. Clean. 
Our low-pressure soft washing system uses biodegradable chemicals that are safe to use on vinyl siding, hardie plank, aluminum, stucco, wood, stone, and brick. Pressure washing can be hard on your exterior, and could lead to damage. Also, without using a detergent your home is left wet, not clean.
We offer a variety of different packages for cleaning your exterior, from high concentrated detergent for mold and mildew, to low concentrated detergent for just a dusty exterior.
Click here for a free estimate, or contact us at 780.289.0625 to schedule your exterior wash.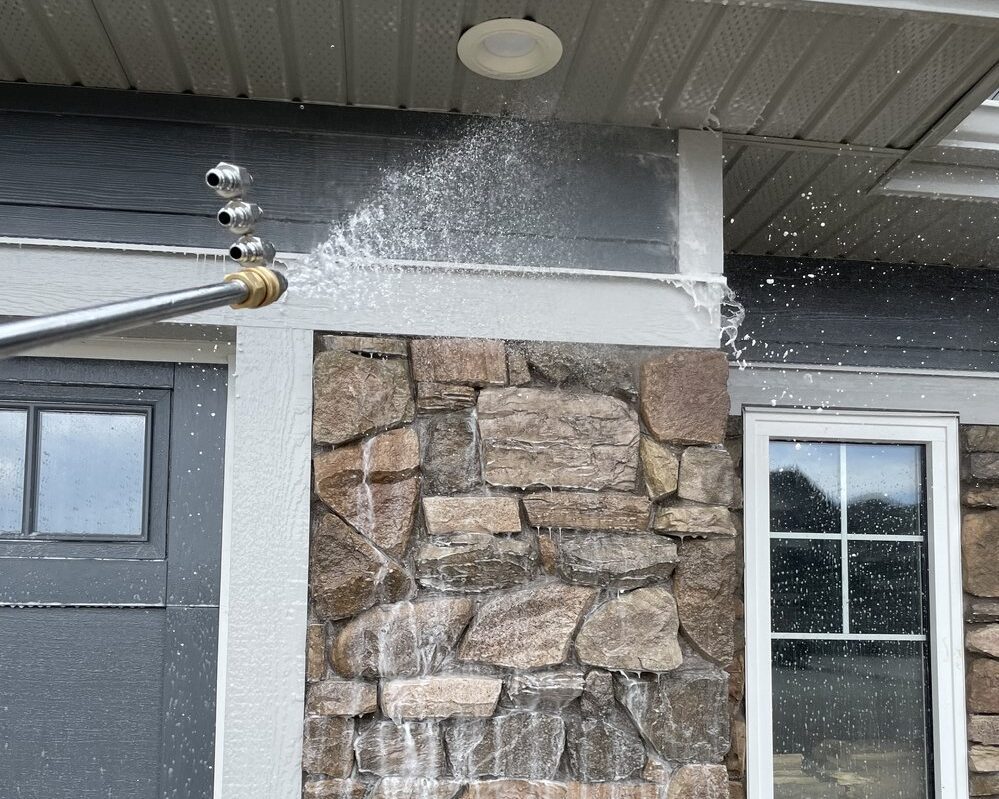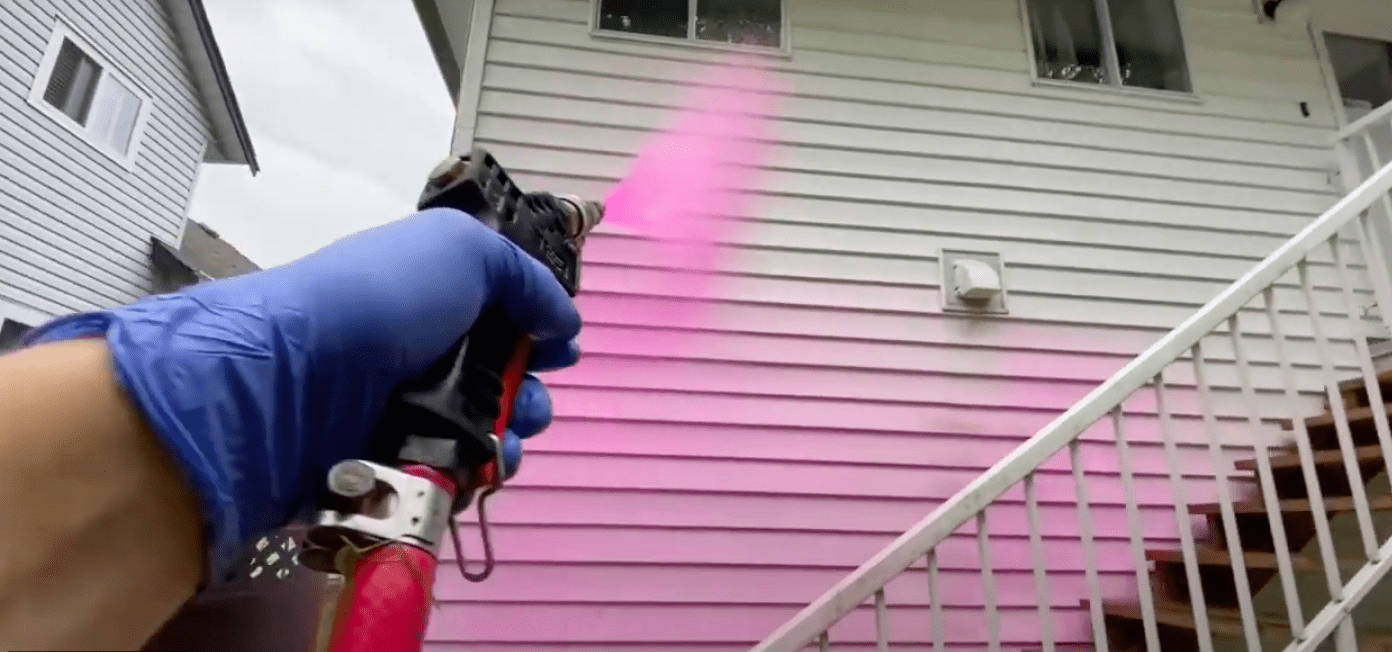 Premium Soft Washing Products
Over the years, we have gained a lot of experience with different exteriors and their needs. We have accumulated an array of products best suited to effectively and safely wash Edmonton homes. We source these products from all over North America to guarantee superior results.
Our soft washing chemicals are credible and biodegradable, always ensuring the safety of your exterior and its surroundings. Capt. Clean professionals are trained to protect gardens, trees, and shrubs. We know you put a lot of care into the appearance of your home, and we want to help improve it, not hurt it.
When is the Best Time to Wash My House Exterior?
At Capt. Clean, we recommend washing your house in the spring. The harsh Edmonton winters cause a lot of buildup, so it's best to remove all the grime as soon as possible. A professional house wash effectively preserves your home's exterior by removing contaminants such as mold, mildew, dirt, and more. By taking care of your biggest investment, your home will look and function better for much longer.
Pressure washing can be hard on your exterior, and if you're not careful, the intense water pressure can lead to severe damage. Our soft wash system uses just the right amount of force—only twice that of a garden hose—to reach 2nd and 3rd stories and remove difficult grime. Our experts at Capt. Clean can restore your exterior's curb appeal without damaging your home, so let us do the hard work for you.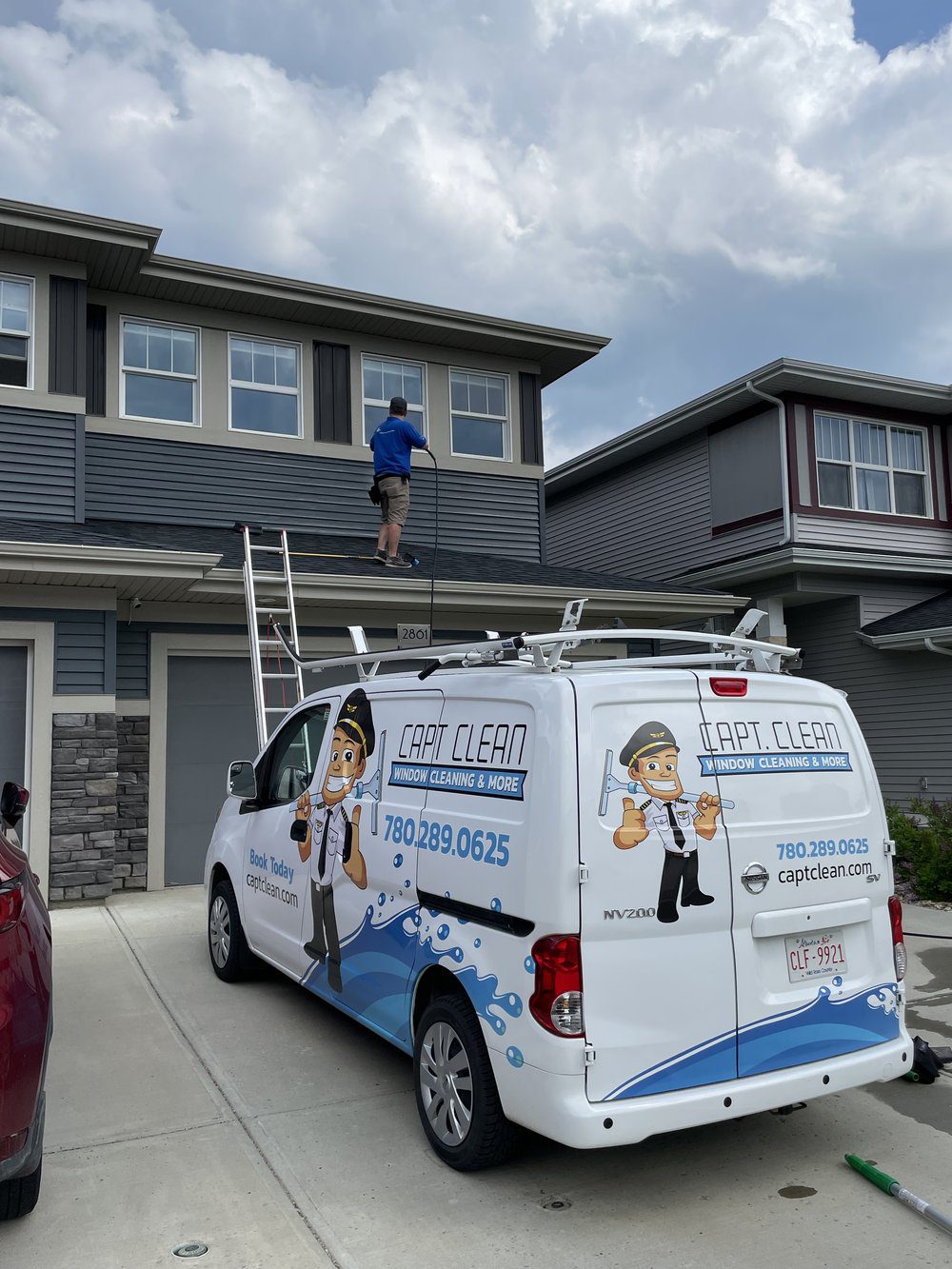 Book Your Power Wash Service Today
If you are in need of a professional Exterior House Wash service, contact Capt. Clean Window Washing & More to get that tough dirt and grime out of the crevices of your beautiful home. We offer competitively priced individual services and combined packages, so give us a call today for your free quote!
Bring your home back to life with Edmonton's #1 most trusted Power Washing company. Trust our experts to get the job done right. 
Contact Capt. Clean Window Washing & More today!