Commercial Window Cleaning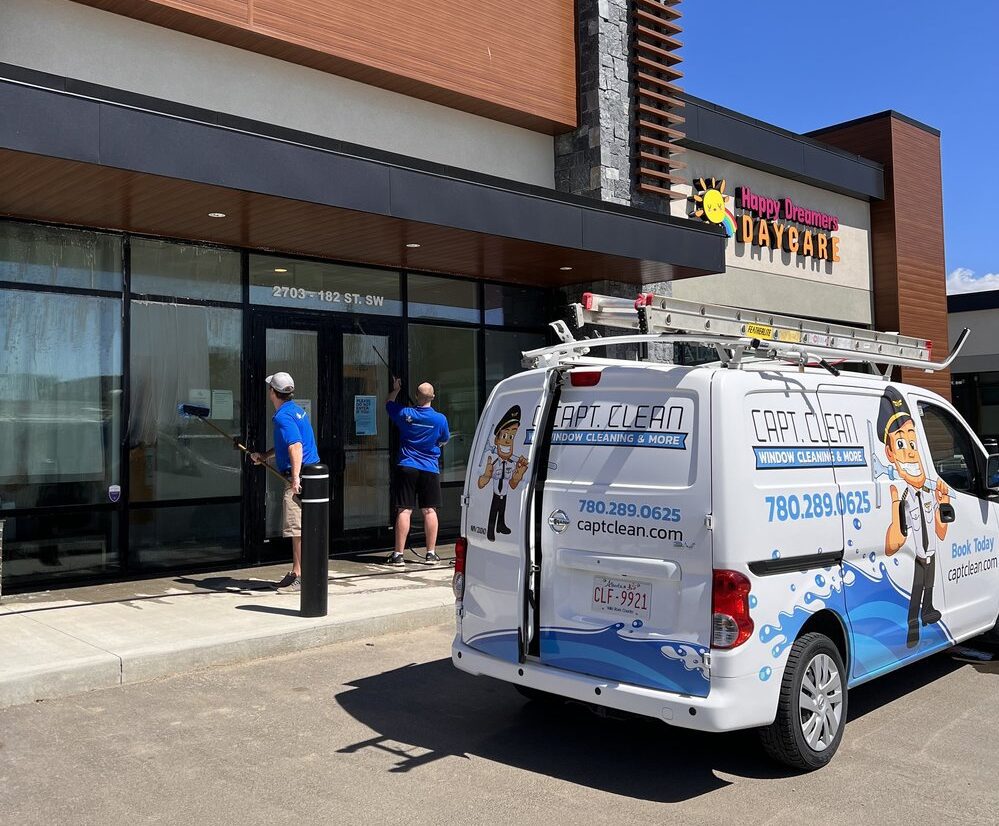 Don't let your customers notice your dirty windows before you do. Capt. Clean Window Washing & More has provided the Edmonton area with Commercial Window Cleaning services for over 15 years. Our dedicated professionals are fully insured and have WCB coverage, so you can rest assured we will get the job done safely and efficiently. We offer Window Cleaning services to all properties and buildings in need of a deep clean. There is no commercial window we can't make shine.
We have cleaned the windows of countless Edmonton businesses, including restaurants, hair salons, hotels, municipal and government buildings, and the Strata Complex. If you are a business owner or property manager who wants to spruce up the windows at your establishment, Capt. Clean is right for you. Our trained crews are punctual, professional, and proud to serve businesses in Edmonton and the surrounding areas. 
To email us regarding your window cleaning needs, click here. To schedule your service today, contact us at 780.289.0625.
At Capt. Clean, we use a combination of traditional and modern techniques to thoroughly clean your windows with exceptional equipment, such as a water-fed pole. Our experienced team is well-informed when it comes to glass types and the appropriate cleaning methods. For instance, the tempered glass found on many commercial buildings scratches easier than glass found on your average residential window. Capt. Clean experts know how to avoid scratching this softer glass, keeping your business pristine.
Why Is It Important To Keep My Windows Clean?
Clean windows send a positive message to the public. A presentable business with clean windows is crucial to positive patron reception. If you want potential customers and clients to view your business as a reputable establishment with quality service, proper upkeep of your building is a must. Neglected maintenance can give a negative impression, deterring customers and hurting business in the long run.
Clean, streak-free windows will give your business excellent curb appeal and help maintain a professional atmosphere when customers enter your establishment. Capt. Clean can transform your business, leaving customers with a lasting favorable impression that keeps them coming back.
Book Your Commercial Window Cleaning Today
Capt. Clean provides safe and reputable results you can count on. Whether your commercial building has hard glass windows in need of a simple wash or soft glass in need of a deep clean, we can guarantee your satisfaction with our work. 
We offer competitively priced services and packages, so give Capt. Clean a call today for a free quote! Our crew yields superior results that are sure to make your business stand out. Let us do the hard work for you.
Contact Capt. Clean Window Washing & More in Edmonton today!